The Latest from Linda Harvey
Will 'No Name-Calling Week' Live Up to its Name?
It's time in schools again for "No Name-Calling Week." And that means your children will get a load of harmful propaganda and half-truths. Lesson plans are unveiled each January developed by

Linda is a guest columnist for World Net Daily. Follow her commentary on wnd.com.
Would you like to support Mission America? Click here for a secure, online donation.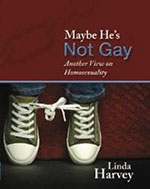 Linda hosts a radio show on WRFD and airs a weekly commentary on the Moody Radio Network. She is also a frequent guest on talk shows coast to coast.